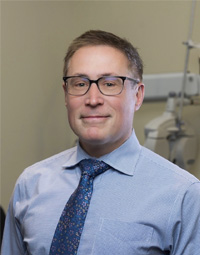 Dr. Mike Roberts
Dr. Roberts studied Biochemistry at the University of Ottawa and received his Doctor of Optometry Degree from the University of Waterloo in 1991 graduating on the Dean's Honour list. He completed his ocular therapeutics training with Honours in 2008 from Nova Southeastern University in Florida.
Dr. Roberts is an active member of the Ontario Association of Optometrists and a past executive member of the Ottawa Society of Optometrists. Dr. Roberts has also worked with the Canadian Association of Optometrists as a question reviewer and writer for the Canadian Optometric Board exams. He is a registered provider of low vision devices through the Ontario Assistive Devices Program.
Dr. Roberts is a proud father of three children. He enjoys running, golf, kayaking, skiing and playing the saxophone.