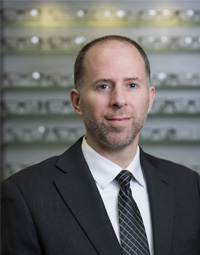 Dr. Chris Morey
Dr. Morey graduated from Queen's University in 2003, receiving his Honours Bachelor of Life Science Degree with Distinction. In 2009, he received his Doctor of Optometry degree from the University of Waterloo, graduating on the Deans Honor List.
In 2009, Dr. Morey completed an internship at the Houston Eye Associates with rotations in Ocular Disease management including glaucoma and cataracts. Dr. Morey enjoys all aspects of optometric practice and has completed rotations in contact lenses, laser vision care and binocular vision assessment.
Dr. Morey is an active member of the Ontario Association of Optometrists and the local Ottawa Society of Optometrists.
Dr. Morey enjoys staying active playing golf and hockey or being outdoors hiking and camping. When he is not out trying to improve his golf game he enjoys spending time with his wife and their two cats, Fred and Lucy.