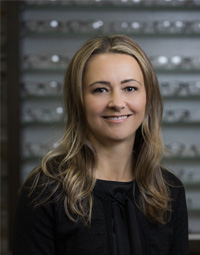 Dr. Aggie Franzmann
Dr. Franzmann received her Doctor of Optometry and Bachelor of Science degrees from the University of Waterloo in 2003, graduating on the Deans Honours list. In 2002, Dr. Franzmann completed an internship at Vision America in Alabama which included rotations in retina, oculoplastics, cataract surgery, corneal refractive surgery, and ocular disease.
Dr. Franzmann is an active member of the Ontario Association of Optometrists and a past president of the Ottawa Society of Optometrists. Dr. Franzmann also works with the Canadian Examiners in Optometry and is the elected Council member for Eastern Ontario for the College of Optometrists of Ontario.
Dr. Franzmann enjoys all the activities offered by the Ottawa region including skiing, golf, running, playing soccer and taking her dog for long hikes with her husband.